The amount of dirt and gunk collected on your face and pores at the end of the day is unimaginable. And honestly disgusting. If you are wondering why you keep breaking out all the time, not using a proper cleanser at the end of the day to get rid of all of the excess oil and dirt from your face might be the culprit. In any skin care routine, no matter how many fancy and expensive products you use, if you are not using the right type of pore cleaning cleanser or any cleanser at all, you will never have the skin you desire.
A lot of the time, brands and companies producing facial cleansers can use harmful and cruelty based ingredients in their products. This is not only harmful for the environment and animal life but also really harmful for your skin as animal based products or products tested on animals can set off allergies for a lot of people. Therefore it is important for the well being of your skin and environment that you pick something organic and natural, and best vegan face wash. 
There are various different types of face washes available out there, each with their different functions like foaming cleansers, mild cleansers, exfoliating cleansers, etc. According to your skin type, you might have to try out a bunch of cleansers to figure out which type is the best for you.
If you know it already, given below is a list of different types of vegan facial cleansers that will help you achieve your perfect skin goal. A huge amount of big brands and companies have switched to veganism and create products that are gentle on the skin, so you do not have to worry about narrowing your choices down too much. Veganism is a conscious choice, however it does not have to be a difficult one. 
There are many products available in the market that are vegan, inexpensive and of high quality. Given below is the list of all the vegan facial cleansers that fit the list of the perfect.
Top 7 Best Vegan Face Washes/Facial Cleansers
Avalon Organics: Intense Defense Cleansing Gel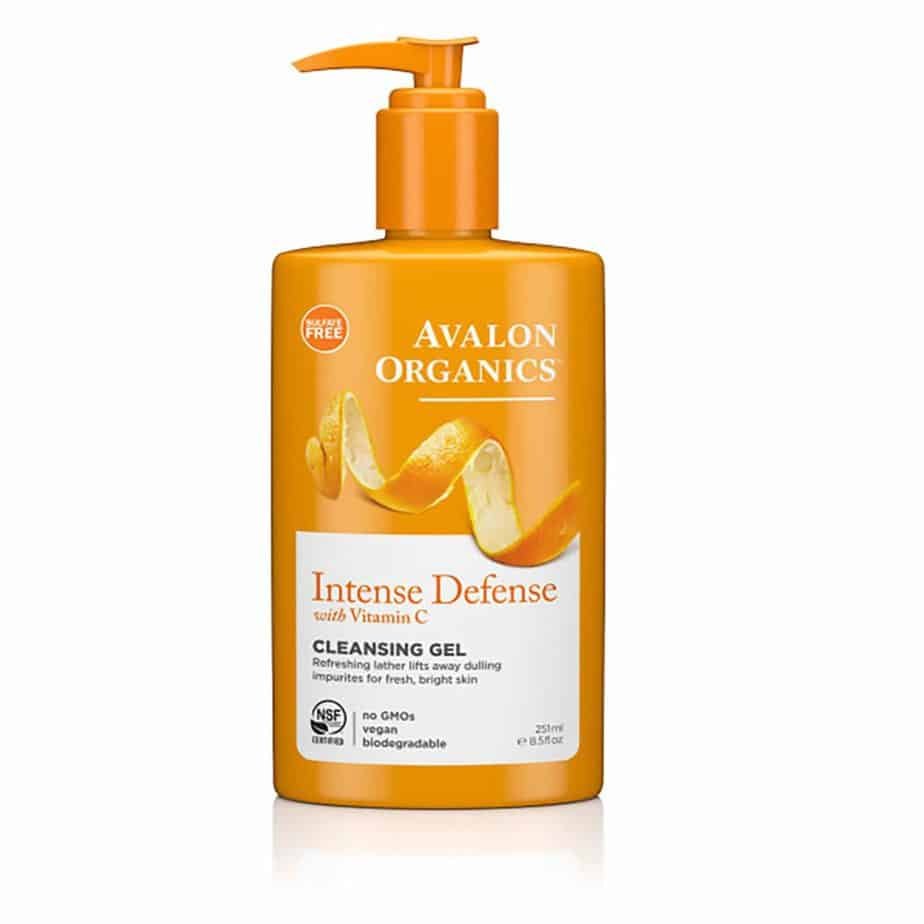 For as long as vegan, cruelty free and organic skin care products have been around, Avalon Organics has been a prominent name. As far as high-quality drugstore skin care brands go, Avalon Organics has never disappointed. Following their amazing product line is the intense defense cleansing gel, aka, facial cleanser. This is a sulfate free, vegan and biodegradable cleanser, which means both your skin and the environment will be thanking you at the end of every wash. Sulfate based face washes tend to be quite harsh on the skin and do not suit allergic skin types.
This cleansing gel is enriched with vitamin C, white tea and lemon extracts all of which have been used for skin care since ancient times. Vitamin C is considered to be beneficial for your skin and it helps in the cell renewal process while simultaneously brightening the skin. It has a mild sour scent owing to the lemon and citric elements, and it smells somewhat like what aloe vera smells like. The scent is not nonexistent but it is not too overpowering either. So if you do not really have very strong feelings towards scents, it will not bother you.
This cleansing gel works like any other facial cleanser you have ever used, you just add some water to it and apply it on your skin to form a lather. You get 8.5 fluid ounces of product in every bottle which is a decent amount as far as facial cleansers are considered. It also comes in a pump bottle which is super convenient as opposed to a normal cap bottle. Overall the product is inexpensive, made with natural ingredients and gentle on the skin. There is really no losing here.
The Body Shop: Tea Tree, Skin Clearing Facial Wash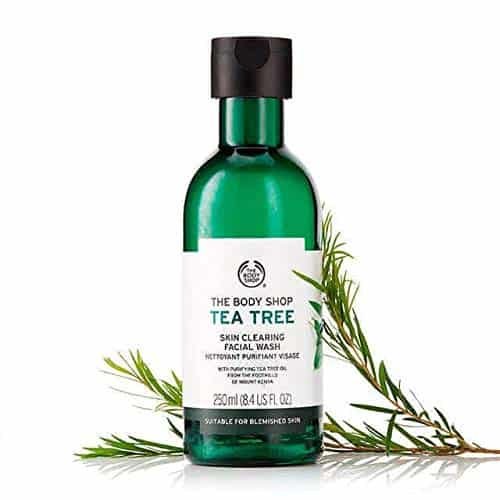 The Body Shop has been all the range among various skin care enthusiasts and there is a good reason why. Although not all body shop products are 100% vegan, they are cruelty free. They have a separate line of 100% vegan products and this face wash happens to be one of those. The Body Shop products are moderately priced and the quality that they provide does all the justice to the price tag they come with. This facial cleanser is one of their best selling products and there are multiple reasons why this is the case.
This facial cleanser consists of tea tree as its base ingredient. Tea tree oil and tea tree extract are wonderful for acne prone skin and sensitive skin. Tea tree extract has been used in various skin care products like sheet masks, toners, cleanser etc, to prevent and soothe breakouts. This facial wash is gel based which is great for oily skin types considering the fact that cream based facial cleansers tend to clog open/large pores.
While being 100% vegan, this product is also gluten, paraben and silicone free. So no more harmful chemicals clogging up your pores and destroying them. It creates a gradual lather that you rinse off and pat dry. Each bottle contains 8.4 fluid ounces of product which is a moderate amount. It has a mid scent which is not bothersome at all if not completely negligible. It does come in a capped bottle which can get a bit messy sometimes but nothing a plastic pump from the dollar store can't fix.
So if you are looking for a facial cleanser that will not only clean your face but also help you with your struggle with acne, this is the perfect product. You will not regret buying this.
Cetaphil: Gentle Skin Cleanser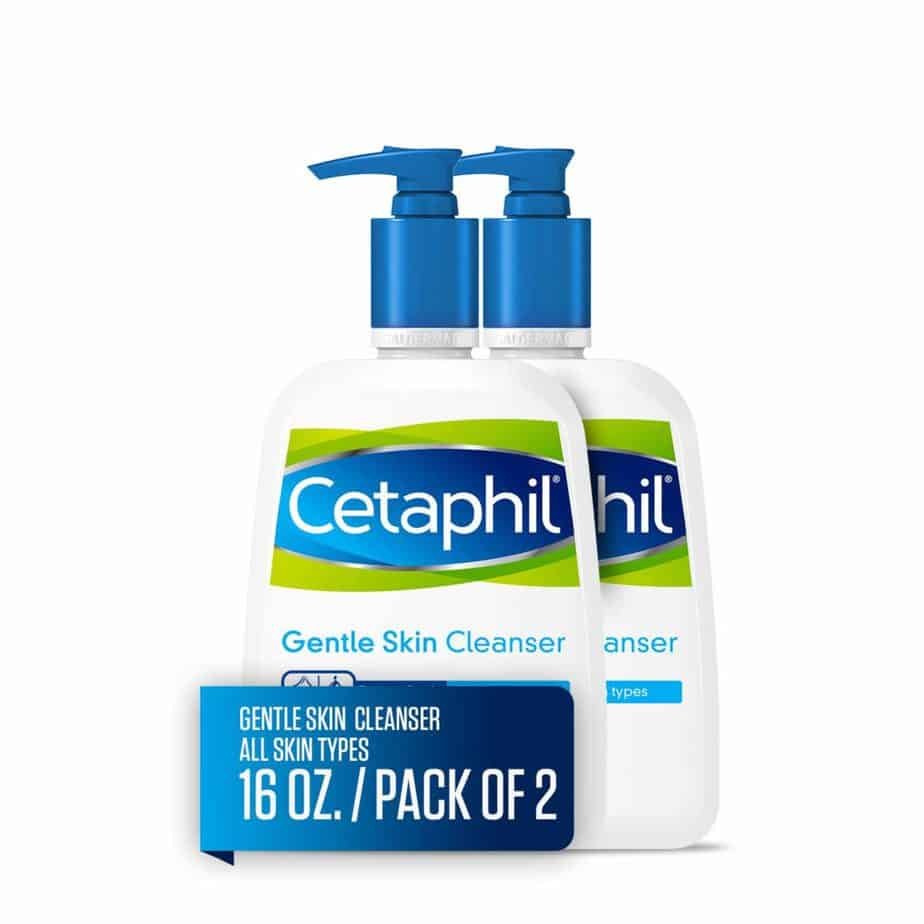 If you have been to the drugstore or anywhere at all this past decade, looking for a facial cleanser, you have probably seen this everywhere. The Cetaphil Gentle Skin Cleanser is a cult favourite and no product becomes a mass favourite without being incredibly good at doing what it is supposed to.
This cleanser is vegan and mild for all of the sensitive skin beauties out there. I have heard of literally no one who has had an allergic reaction to this product, given the exception of some. It does exactly what a facial cleanser is supposed to do and it does it well. It clears your pores of all the gunk that might have been accumulated in them and gives your face a fresh start. This product is the initial product most dermatologists suggest for acne prone and irritable skin.
You could have this cleanser used by your entire family and no one would be complaining. The above mentioned link consists of a 2 pack, which includes 16 ounces of product. People with skin conditions like eczema, rosacea etc, turn to this product as this product never causes a flare up. It has no fragrance which is perfect for people with fragrance allergies.
All in all, it is just a great facial cleanser that will do its job and never disappoint.
Andalou Natural: Rose Cleansing Foam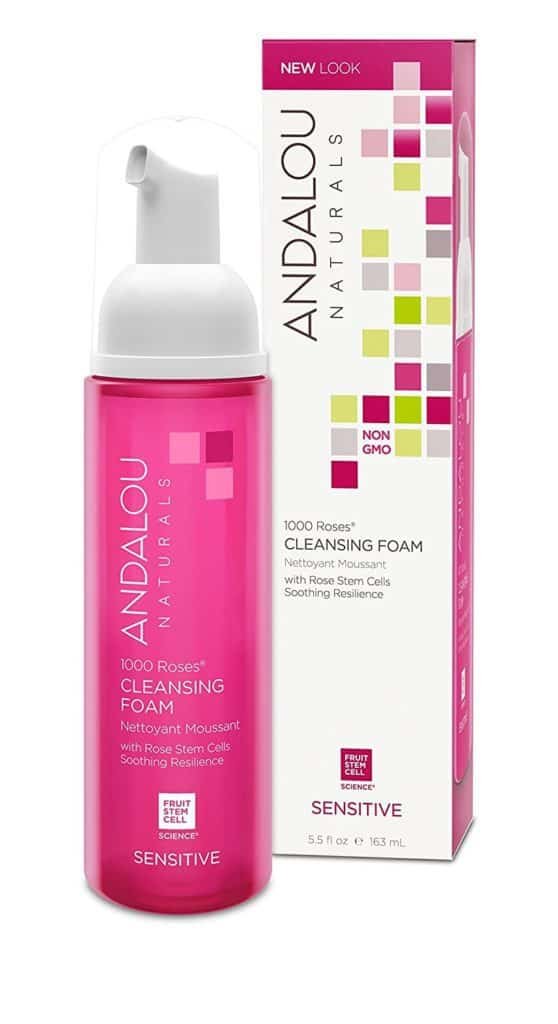 When talking about organic and natural facial cleansers, you cannot neglect brands like Andalou Natural. If you have easily irritable skin, you know, industrial facial cleansers based on chemical ingredients tend to cause flare ups and breakouts. If that is the case with your skin too, you might want to check this product out. This cleanser is a gentle foaming cleanser based on rose as its core ingredient.
Rose has been used for skincare and beauty purposes for as long as history goes. Rose milk and rose water is associated with brighter, healthier looking youthful skin. If a gentle cleanser based on brightening properties is what you have been looking for, look no more.
Besides rose stem cells, it also contains natural and healing ingredients like aloe vera and pomegranate, both of which have hydrating and moisturising properties. This product is not only vegan but also organic and gluten free. It consists of a key ingredient, hyaluronic acid, which is used in many skin care products to avoid breakouts and clear the skin on a pore level. 
It foams a lot and feels like butter on your skin. Your skin will end up feeling rejuvenated and clean. Each bottle contains 4 fluid ounces of products which is more on the lower end, but the quality of the product makes up for it. Overall, if you are a skin care enthusiast and like to invest in good skin care products that could do wonders for your skin, this product is a must try.
Bioré Charcoal Facial Cleanser for Oily and Acne Prone skin

This is for my oily skin people. It might be very difficult to find cleansers that really get into your pores and take out all of the excess oil and not just work on a surface level. To add to that, vegan products further narrow down your choices. It is a tough market out there if you have both oil and acne prone skin. Most sensitive skin products that help with the acne might not be able to work on the oil leading to further breakouts while those that work on the oil in your skin, might be too harsh for your acne. I feel you.
For the longest time, finding a cleanser with strong cleansing properties while still being gentle on acne seemed like an impossible task. Before I was introduced to this little gem. This product is charcoal based so you can be sure that it will get into all of your pores and clean them out from the bottom up. Charcoal is an ingredient that has been used constantly in pore strips and pore cleansing face masks because charcoal gets into the deepest portions of your skin and gets rid of all of the dirt and oil that might be building up inside of them. It contains salicylic acid which helps prevent and treat acne and acne scars.
So if you have been dealing with blemishes for a while, this product is worth giving a spin. It should however be kept in mind that this product is not meant for people with dry skin related issues. This product will dry your skin out a lot which is required and welcomed for oily, acne prone skin but kind of harmful in most other skin types. So if you have problems with dry and flaky skin, this is not your cleanser. Every bottle contains 6.77 fluid ounces of product which is a decent amount considering facial cleansers. It comes in a pump bottle which is always an added benefit.
Garnier: SkinActive Face Wash with Green Tea

We have all used Garnier at some point in our lives whether it was a face wash or a makeup remover. There have always been mixed reviews about Garnier products and that is usually what happens when a product is tried and tested by such a huge mass of people.
This is another facial cleanser from Garnier which has the scale tipping more towards the good side. The face wash is 100% vegan and cruelty free and is made from the core ingredients green tea which is super good for your skin especially if your skin tends to look tired. Green tea is a natural refreshing and revitalizing ingredient that is sure to leave your face feeling vibrant and full of life. It is formulated to be a deep pore cleanser and it really is one.
Once you are done using this product on your skin, your skin will look visibly fresher and you can feel your pores and face feel cleaner. It is also paraben, sulfate, dye and silicone free while being vegan. The formula does contain a small amount of peppermint which a lot of people are allergic to, so if you are one of them, you might want to steer clear of this product. The green tea in the product might dry out your skin a little so if you have really dry skin, you might not want to use it too. It is also available in the variant aloe vera which is more suited towards dry skin types as it is in itself a moisturising agent.
This cleanser foams when rubbed onto the face and is to be washed off with water. It comes in a pump bottle (always a welcome feature) and each bottle consists of 6.7 fluid ounces of product. This is a fairly decent product for being produced by a drugstore skin care brand.
A lot of people are skeptical of drugstore products but this product, I can assure you, is trustworthy and worth giving a shot.
Burt's Bees: Soap Bark and Chamomile Deep Cleansing Cream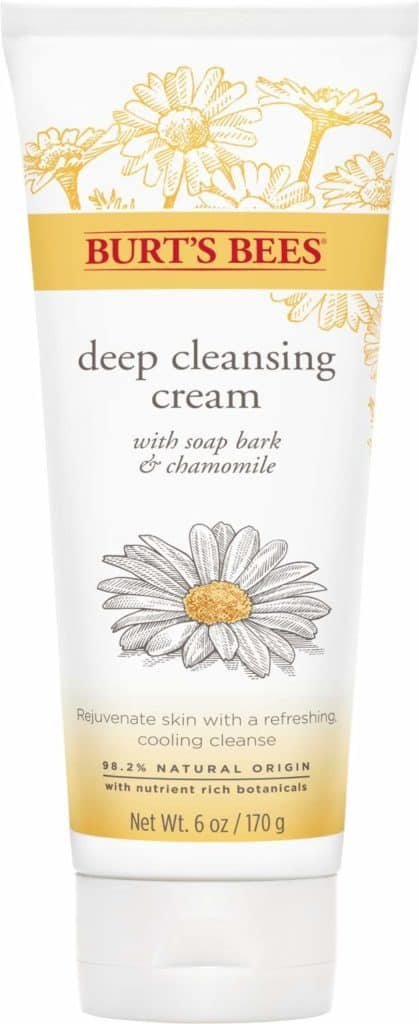 We all have heard about, used and loved the Burt's Bees Chapsticks. This brand with its all natural ingredients and vegan formulas has swept the skin care enthusiasts off their feet. And rightfully so, Burt's Bees has always been a brand that has delivered amazing products back to back without disappointing. However their facial cleansers range is a little underrated and underappreciated.
There are a ton of variants available when it comes to their facial cleanser as they released a long product line but this specific cleanser is one of the most loved. It is a cream based facial cleanser and works beautifully for people with dry skin. It is made from calming and soothing ingredients like chamomile which will make sure that your skin loves every part of the face washing process. It comes in a 6 ounce tube which is a little tough to use especially if you try to open it with wet or slippery hands but that is about the only bad thing you will ever hear about this product.
Because it is a cream based product, it will leave your skin feeling nice and soft instead of the usual dry feeling that you get when you use facial cleansers containing chemical exfoliants. It does contain the tiniest bit of menthol which might set off allergies in some people, something to consider while buying it.
Overall it holds up to the Burt's Bees standard and is sure to leave you wanting more.
Conclusion
Vegan Facial cleansers tend to be organic and made with all natural ingredients which is a dream for people with sensitive skin but it is sometimes difficult to find a product good enough to get all the gunk out of your face. For this purpose, both strong and gentle facial cleansers have been mentioned above to give you an array of options to choose from. All of the above mentioned products are available on Amazon for purchase and most of them are also readily available in any drugstore close to you.
Facial cleansers are always a hit or miss but hopefully all of the information laid down would be enough for you to find a cleanser you love and can never get enough of.