There are various types of eyeliners that you can find yourself using when you get into eye makeup. The kind of eyeliner you use makes a world of a difference in the look that you are going for and the look that you end up with. While most eyeliners do their job, there is a reason why there are so many options to choose from.
Lining your eyes with either black or coloured liners could really make or break your makeup look. Many celebrity makeup artists and beauty gurus swear by their eye lining techniques and also their favourite, ride or die products. The beauty industry seems to be growing every minute of every day and hence, it is not too difficult to find brands that produce either a line of vegan products or turn their entire brand vegan. Therefore it is not difficult to find vegan eyeliners but what is difficult is to know whether the liner holds up to the standards that the brand usually provides or not.
Another thing to consider is whether you want a kohl, felt-tip, brush-tip, liquid or gel eyeliner depending upon what look you go for usually. Sometimes a brand could have their gel eyeliners nailed down to the list of the best vegan eyeliner but their liquid liners do not make it too far. To you, it might seem like based on their usual deliverance, their other products might be of the same quality. But that is rarely the case in most brands. 
So here is a list curated specifically for you, so that no matter what kind of eyeliner you pick, it will be both 100% vegan and 100% amazing!
Top 6 Best vegan eyeliners
NYX Professional Makeup: Epic Ink Eyeliner in the shade 'Black'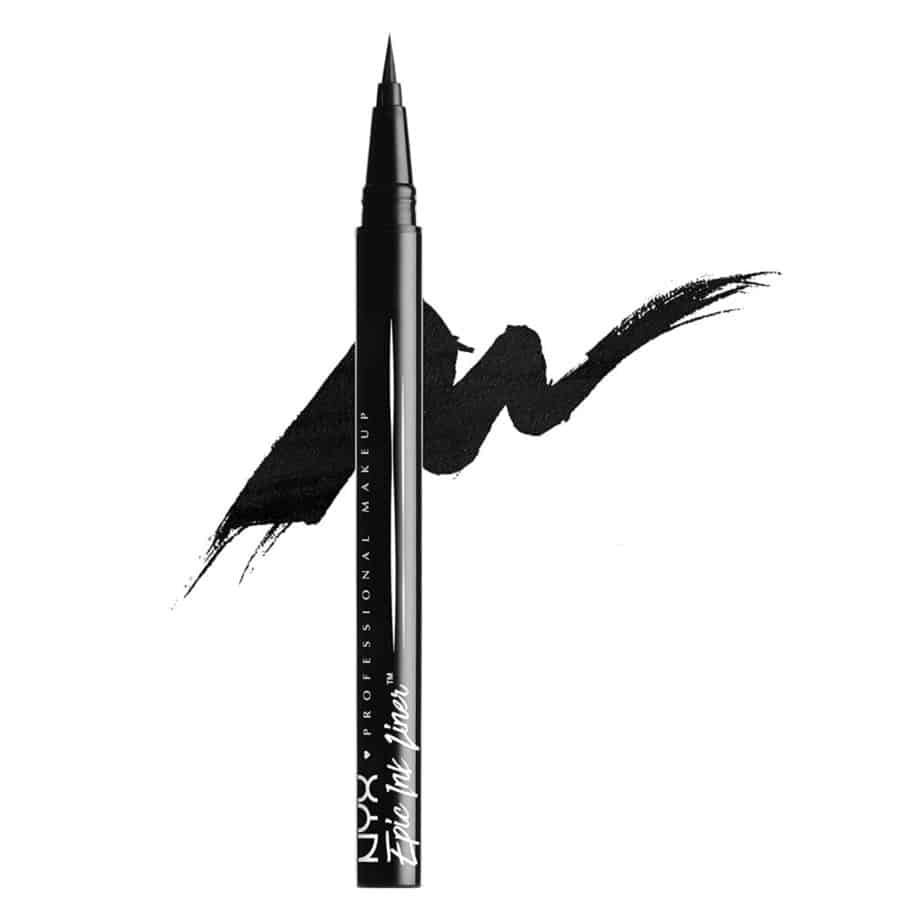 NYX Professional Makeup has been around for as long as you can remember. Many of us had our first run down with makeup with this brand. NYX is considered to be one of the best drugstore brands and for a good reason. NYX has collaborated with many celebrity makeup artists and celebrities alike and formulated some of the best products at pretty low rates.
Now while NYX is not completely vegan, not yet. It is 100% cruelty free and has a separate line of products that are completely vegan. This line of products includes the epic ink eyeliner. If you know anything about eyeliners, you know that felt tip eyeliners are the easiest to deal with and hence are perfect for beginners. And to add to that, the low price point at which NYX offers this eyeliner makes it an absolute steal for both amateurs and experienced makeup enthusiasts.
There are a number of felt tip eyeliners available in the market but there are a ton of reasons why this makes it to the top. The first reason is the colour, this is one of the blackest, darkest, most pigmented eyeliners I have ever come across. If the word jet black was not invented, it would have been after this product was launched. When it comes to felt-tip eyeliners, it is very important that they have a stark pigment and do not need repeated application. This is because the felt tip is literally tugging against your eyelid or whatever eye makeup you have on. If you have to continuously keep going in to make it look darker, it just ends up looking messy and spoils the entire look. That is why this eyeliner is right up the alley because of its dark shade.
Another reason to buy this product is the longevity of it. This is the kind of waterproof felt-tip eyeliner that actually holds up to its claim. No matter how much you sweat or how long you stand in the pouring rain(not ideal but things happen), this eyeliner will not budge. If you were to put it on and go through apocalypse, chances are the liner would still survive. It is also available in a bunch of different colours, brown, sapphire and white, which makes it a better, more versatile product in itself.
Overall, it is a pretty good product, it is not ground-breaking per set but it does its job well and that is more than most makeup products I have ever used. 
Pacifica: Natural Eyeliner in the shade 'Black'
Pacifica beauty is one of the most renowned names when it comes to vegan makeup brands. It is both affordable and high quality and has been a vegan brand for quite sometime now. One thing you know for sure is that because of all of the experience in the beauty veganism field, Pacifica Beauty has the vegan standards for beauty and makeup products nailed down. So you can expect most of their products to meet and exceed standards and be just as good as non vegan products, sometimes even better.
An absolute beauty by this brand is the kohl/eye pencil. It is available in three different shades, "black", "brown" and "grey" for you to choose from and love. This, again, is not necessarily any different from the rest and mind-blowing in any shape, way or form but it does its job and it does it well. This is not like the kind of drugstore eye pencils that make you feel like you are stabbing yourself in the eye with it. The product is soft, smooth and goes on like a dream.
The packaging is not all that great, looks like any other cheap eye pencil. That is probably the only downside, it might not be pretty to look at but your eyes will be once you use it. It is pretty affordable for being vegan, cruelty and gluten free, even otherwise. It contains shea butter, vitamin C and vitamin E which are all good for your skin and eyes. It is chemical-free which makes it a clear choice for people with eye skin related problems and also makes it great for not harming your eyes. It does not smudge too much or run when you apply it to your waterline which is always an added benefit.
All in all, it is a pretty great product and absolutely worth trying.
Stila: Stay All Day Waterproof Liquid Eyeliner in the shade 'Intense Black'

If you have a part of the makeup industry whether it be an enthusiast, an artist or just an audience, you know about the stila eyeliner. Everybody has only good things to say about this because there is nothing wrong with it. Stila is one of the more expensive brands of makeup but they never disappoint when it comes to quality of products.
If you have been watching any of the YouTube beauty gurus' makeup videos, you have seen this eyeliner in action and know exactly why there is so much hype around it and why people live it so much. At the end of the day, it is only a makeup product and obviously does not do anything revolutionary but you know that if you have this liner in your makeup bag, your eyeliner game is going to be on fleek. It is not necessarily the most affordable product out there but if you want to create wings the likes of runway models, then stila is the way to go.
It is both waterproof and smudge proof so no matter what you do throughout the day, you will not have to worry about your eyeliner disappearing from your eyelid. It also has the softest felt tip ever! You will not feel like you are tugging on your eyelids at all, that is what you get when you invest in quality products. The tip is comparatively longer than most out there which helps you get finer strokes. The colour is as dark and vibrant as it can be.
Which brings us to the range of colours available.
It is unbelievable the number of colours they have in this range and all of them look so subtle and rich. It comes in 12 different shades namely, 'Periwinkle' (a soft pastel blue), 'Cobalt' (a stark blue), 'Teal' (a blue-green), 'Emerald' (a warm tone green), 'Moss' (a dark green), 'Olive' (a brown with a green tinge), 'Snow' (a pale white), 'Alloy' (a silver grey), 'Indigo' (a dark hued blue), 'Midnight' (an ink blue), 'Dark Brown' (a dark brown) and lastly, 'Intense Black' (a jet black).
If you have the money for it, this eyeliner is one of the best, there is out there.
NYX Professional Makeup: Matte Eyeliner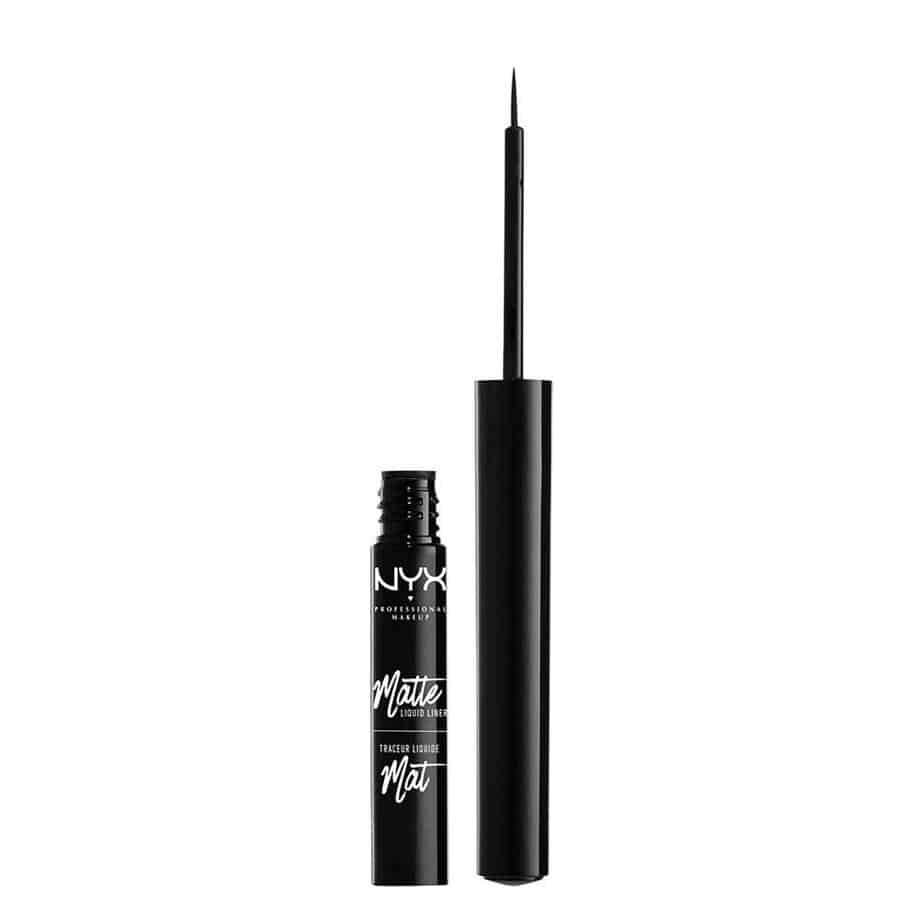 This is one of the initial products launched by NYX that plummeted the brand into the drugstore norm. This is to say that this product is responsible for the brand's reputation and made a pretty huge bang amongst beauty enthusiasts. Liquid eyeliners can be tricky to deal with as they require steady hands, precision and drying time. But a lot of professionals and amateurs alike prefer liquid liners because of their fluidity and their ability to go on dark and smooth.
A huge problem with liquid eyeliners is that most of them either dry down glossy/shiny or they dry down to become a lighter shade. This however is not the case with the NYX eyeliner which is a major reason why this eyeliner received so much of love and attention. Also not to mention that this is dirt cheap and it is a complete mystery as to how NYX manages to supply such a high quality product for a price this low. If you grew up watching tutorials showing you how to use liquid eyeliners and now have your heart set on them, this is your player.
It is also available in the shade 'White' and they have a separate range of coloured liquid liners called the 'vivid brights' which is something you might want to look into if you like having fun with your eyeliners and makeup looks. It has a brush tip applicator like most liquid liners do and it will let you be just as precise as you want to be. It goes on opaque and does not smudge.
Although one thing to keep in mind is, it is not waterproof which means if you intend on crying and rubbing your eyes, you will come out looking like some antagonist from a horror movie. But if that is not you, you do not have to worry about it. Another thing to consider is that if you have oily lids, this probably will not be your best bud. Simply because this is a liquid eyeliner and it needs to dry off, if you have oily eyelids it is going to slip around all day and will probably get all over the place. A simple fix would be to prime your eyelids before you apply any eye makeup at all but if you are looking to just apply the liner by itself, this probably will not work, you might want to look into gel eyeliners.
Finally looking at the big picture and considering that you do not have oily lids or prime them, it is safe to say that this eyeliner is worth every single penny and worth giving a try.
Elf(Eyes. Lips. Face) Cosmetics: Cream Eyeliner in Black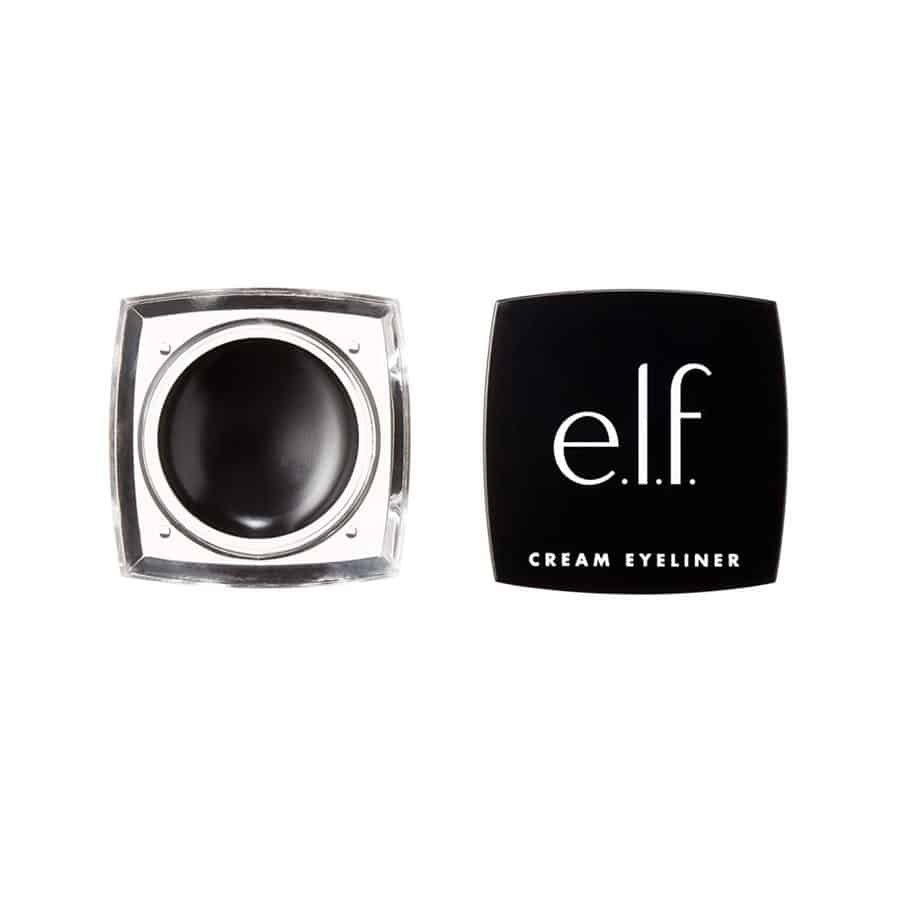 Everybody in the vegan beauty community or even otherwise, is obsessed with Elf Cosmetics and there is a good reason why. Elf is ultra affordable, has great dynamic products and their product quality is insanely high. Okay there maybe more than one reason. Either way, Elf Cosmetics has been a cult favourite ever since the launch of the brand. They have had new lines and stuff coming up in short intervals of time and deserve all the hype that they get.
This gel/cream eyeliner from Elf lives up to the brand name. It is almost as perfect as the high end gel eyeliners used by celebrity makeup artists/ runway makeup artists. Elf's prices are not even worth getting into as you could get a whole bunch of elf products for the same price you would get one Charlotte Tilbury or MAC product in. What is that I hear? Problems with oily lids? Wanting to use an eyeliner for a smokey look? Well, this product is here to solve all of those problems.
Gel eyeliners are inherently made for oily lids as they dry down and stay put. This liner does the same while also maintaining pigmentation and the jet black colour. So if you have oily lids and were looking for an eyeliner that does not slip all over the place, this is your best bet. Also this goes on as a cream eyeliner, as the name suggests, which makes it perfect for smokey eyeshadow looks. Just apply a thick line of product as you normally would and use another brush to smudge it out. Smokey eye looks have never been this easy before.
One thing you do have to keep in mind is that it is a cream eyeliner so you might not realise how soft the product is. You might want to get into the product a little gently to avoid wasting it or getting too much on the brush.
At the end of the day, this eyeliner is going to be your best bud and you will not regret the very little amount of money you have to put in to buy this product.
Maybelline: Eyestudio Master Precise Eyeliner in the shade 'Black'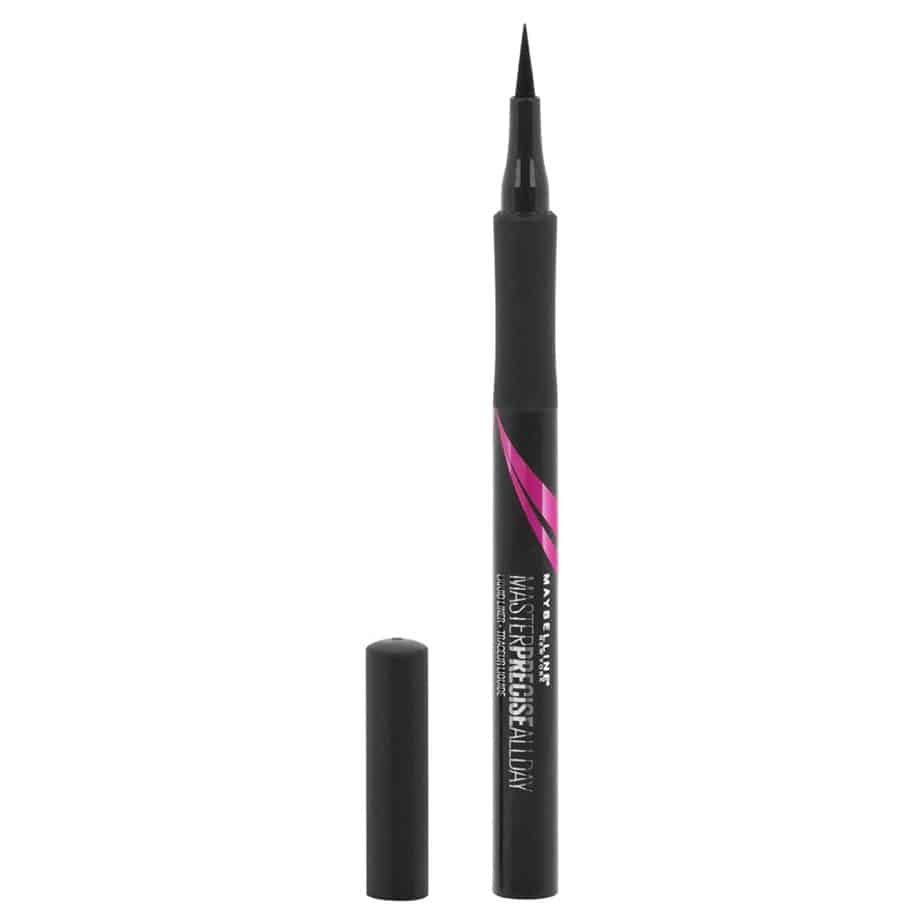 If you have been to the drugstore or are familiar with any drugstore makeup brands at all, you know that Maybelline is part of the few brands that never fail to deliver. Maybelline is part of those few drugstore brands that everybody wants to get their hands on because most of their products are absolute bangers and they rarely ever disappoint. One of those products is this Eyestudio Master Precise Eyeliner.
It is a felt tip eyeliner and every other YouTube beauty guru was talking and raving about it when it first came out. It was famous enough to empty all shelves by the end of the week when it hit them. Most people obsessed over how perfect the applicator was and rightfully so. The applicator is just the perfect amount of narrow and the perfect amount of wide. It is not too narrow wherein you have to go over and over to get a decent line but it isn't thick enough for you to mess up with it. The actual liner is a little less pigmented than you would prefer but if you go over it twice, you will not be able to tell the difference.
Maybelline being a drugstore brand, this eyeliner is half the price or even less than most high end felt tip liners and compares in quality too. It is available in two other shades, 'Matte Blue' and 'Forest Brown' both of which have the same formula and go on like a dream. So you decide what shade you want to get.
It is a standard product and great for the price it comes at, so if you are looking to buy a felt tip liner, you might want to give this a spin.
Conclusion
In conclusion, no matter what kind of eyeliner you prefer, there are always a plethora of options to choose from, even if you are looking for vegan options only. All of the above mentioned products are available both in the drugstore and on amazon. So you could get them from the comfort of your home or while doing a regular grocery run.