Aah, the feeling of vanilla scented body lotion being lathered on freshly shaved legs. Such a dream! It is every woman's little beauty ritual to put on some body lotion after a warm shower at night. We all deserve a little something after a tough day at work. But it gets seemingly difficult for us vegan ladies to find best vegan body lotion that support our ethics. 
It is 2020 and most beauty and skin care brands are on board with the whole veganism niche but you do not want to support companies that are not on board unconsciously, do you?
Veganism, today, is not just about brands being cruelty free and not harming animals but also more about the effect it has on the environment. Animal husbandry and breeding takes up three times the space and resource than crop cultivation does. With the constant crunch for space and the resulting deforestation being on the rise, veganism is the only escape to this problem. This is the reason why a lot of people and industries alike have started adapting to veganism.
I know it gets difficult sometimes to not pick up the best smelling lotion off the shelf or take your best friend's word when she tells you how amazing her new lotion is. And with the ever evolving makeup, beauty and skin care industry, this will be very possible in the near future with almost all brands switching to veganism.
But for now, in case you do not want to go deep diving into the shelves of various skin care brands and just want to find a good body lotion that fits your description and your skin type perfectly, then you have found yourself in just the right place. I am going to list for you, some of the best vegan body lotions available out there so you can choose from them what you would like the most. You are welcome!
Top 7 vegan body lotions that you need to get your hands on:-
Hempz Pure Herbal Extracts: Original Body Lotion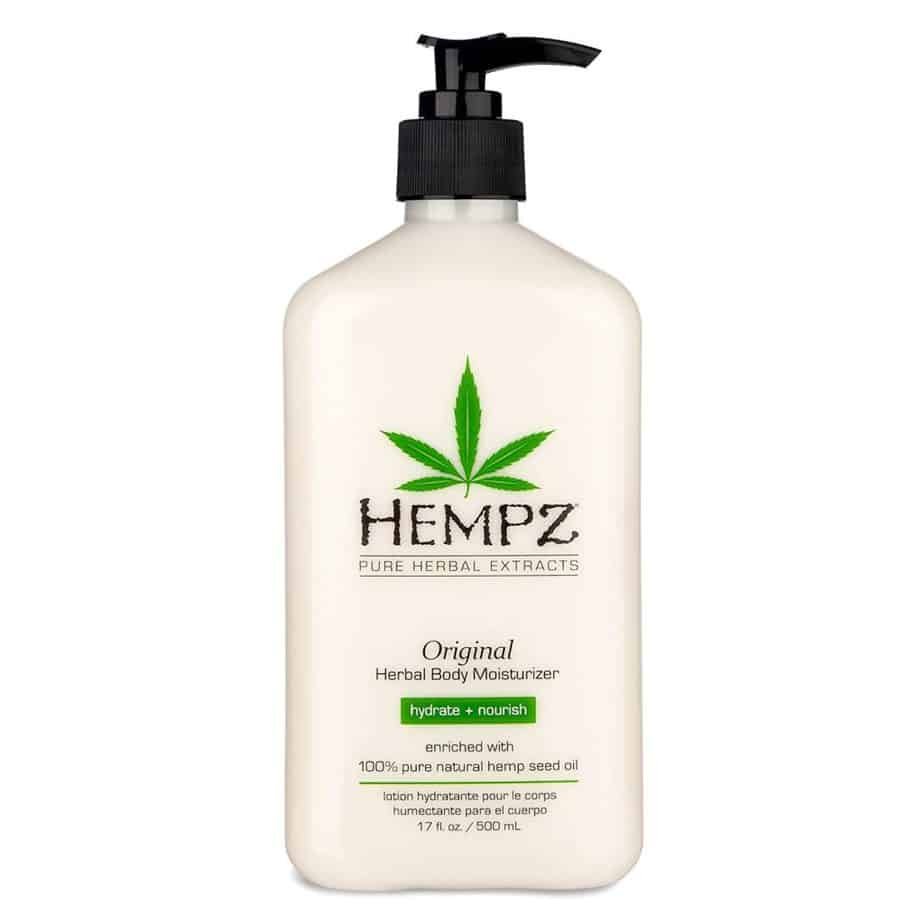 Hempz is a very renowned vegan skin care brand. They have been very clear about their veganism policies since day one. The quality of products by this brand will almost never disappoint. However, there is a slight issue with consistency, you will not receive the exact same product all the time but the change is almost unnoticeable.
Hempz Pure Herbal Extracts, use hemp seed oil or hemp by-products to formulate their items of beauty and skin care. Their body lotion is especially famous among their users. You could easily find this product anywhere you look. One bottle contains seventeen fluid ounces of product which will last you anywhere between a month to four months depending upon your use. This product is ultra affordable which is the reason why a lot of people pick it up. Good quality and low prices, what more could you want?
This body lotion however is scented quite heavily, so if you do not like strong scents in your body lotions, you might want to stray away from this particular product. But if you are into scents, this product smells of bananas and flowers, which basically smells like some bubble gum. It is refreshing and moisturising, perfect for normal to oily skin people. If you have intensively dry skin, this product might not be for you. You could slather on a couple of layers and it would do the job but there are a lot of other lotions available out there for your skin type. So if you want an everyday lotion at a decent price, this is your product.
Hempz Pure Herbal Extracts: Triple Moisture Whipped Body Créme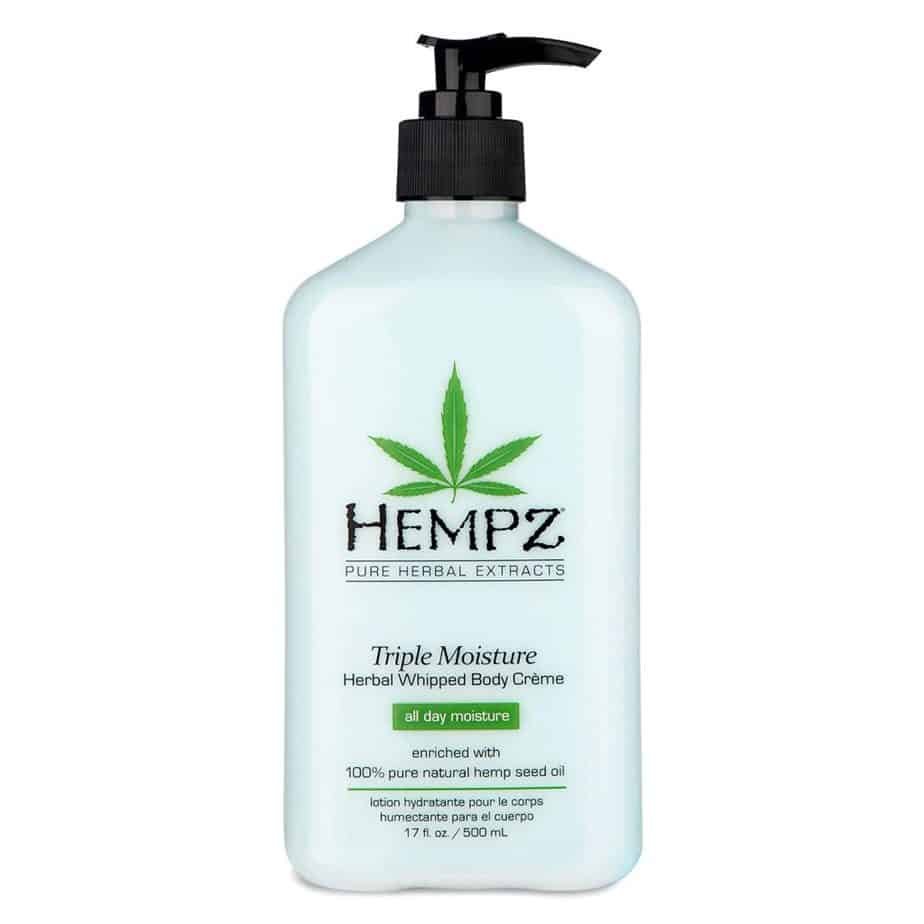 For all my dry skin people out there, I told you to sit tight. I know hempz seems like such a great brand and jumping at the very first product you see by them is a very plausible instinct but Hempz Pure Herbal Extracts has a plethora of options to choose from. This lotion is made specifically for those with dry skin related problems. If your skin is flaky and needs a lot more moisture than anyone with normal skin does, this is your holy grail. It is a whipped body créme which makes it a lot thicker than most body lotions, perfect for people with extremely dry skin.
It goes on like butter due to the whipped airy texture and settles into your skin like a dream. Enriched with fruit extracts and hemp seed oil, this moisturizer will not only replenish your skin but will also moisturize it for the longest time. Like every other hempz product, this too has a really strong smell. So if strong smelling products are not your strong suit you might want to choose some other lotion. This lotion has a lot of fruity undertones to it which includes scents of apples, peaches and grapefruit. Because hempz is so affordable, universal and organic, you could have this lotion sitting around for everyone to use.
Anyone from kids, young adults to old people could use it without worrying about side effects. This product has also helped a lot of people struggling with eczema(a skin condition that leads to flaky and extremely dry skin). The triple moisture body créme really is one of the best vegan body lotions available in the market.
The Body Shop: Body Yogurt in the variant: Almond Milk
The body shop is a cruelty free brand with affordable yet high quality skin care products. They have a wide range of bath and skin care products to satisfy every skin care needs of yours. They have a range of different products. While not every one of their products is vegan, all of their products are cruelty free. They have a 100% vegan line which includes this body yogurt. 
The reason why this lotion is called a body yogurt is because it has a gel like consistency while still retaining moisture. This means if you are the type to apply lotion before you head out but seem to remember only when you don't have enough time for the lotion to set in before you leave, this body yogurt will be your best mate. It goes on smoothly and instantly seeps into your skin unlike most other lotions which need some time to make it through the layers. It does have a very strong scent of almond, which is sort of overpowering but if you are a fan of sweet yet musky fragrances, you are going to love this product.
The body shop is an affordable brand as compared to most skincare brands available out there. They claim that the product will keep your skin moisturised for 48 hours but considering the consistency, the maximum it can do is 6 hours before you have to reapply it. There are certain advantages and certain disadvantages to this lotion but all in all, it is a pretty good lotion considering the price and the quality. It is available in four other variants namely, British rose, strawberry, mango and moringa.
You can pick whichever scent that you like the best. They all have identical moisturising and structural properties but the variants in smell make them even more appealing.
CeraVe: Daily Moisturising Lotion for normal to dry skin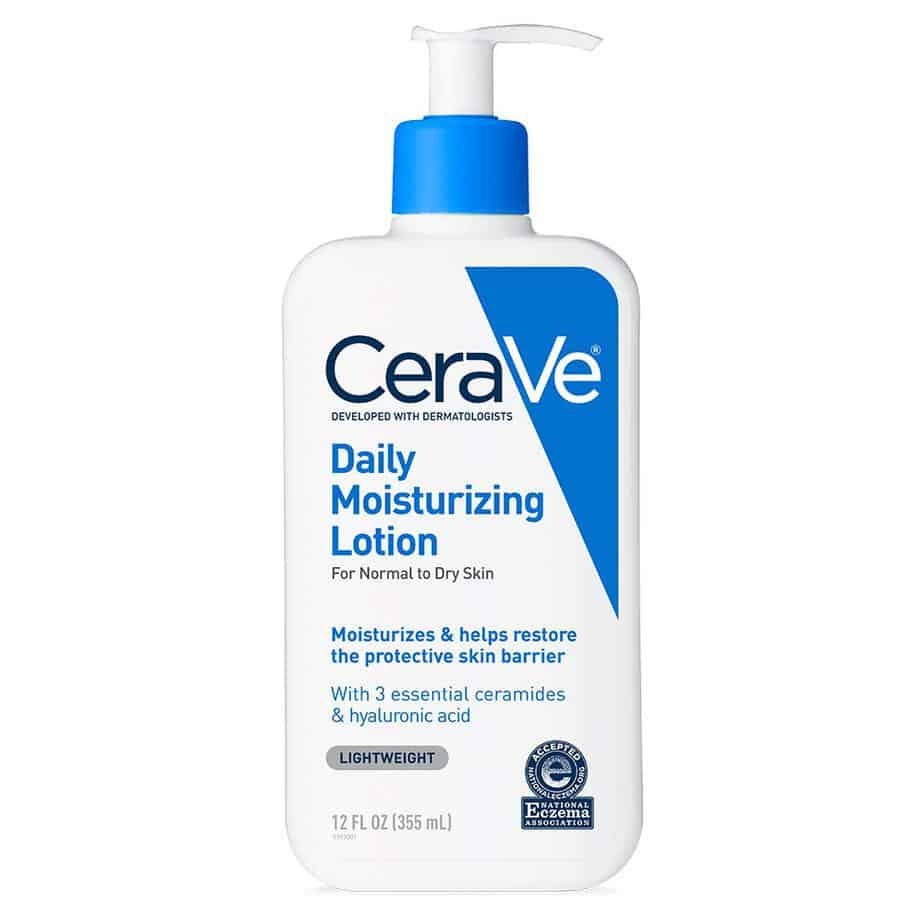 When you talk about skin care lotions for sensitive skin, CeraVe is all the rage. People with easily irritated skin find themselves picking this off of the shelf, more often than not.
CeraVe is 100% vegan which means you really do not have to worry about veganism while indulging in this brand. It is made of ingredients specifically designed to moisturise and help fix eczema, extremely dry skin etc. One bottle of CeraVe contains twelve fluid ounces of product and considering how low the price is that is a complete steal.
Another amazing feature of CeraVe body lotions is their consistency. They are water based so they do not clog your pores. It hydrates the skin and does not make it greasy. It contains hyaluronic acid which helps in treating pimple prone skin whether it be on your face or any other part of the body. It is very difficult to find a body lotion that does not worsen the situation of sensitive and acne prone skin. It does not have an overpowering smell so if you are not a fan of strong scents, there is finally a product for you.
The skin care industry tries to inculcate strong scents into their body lotion for two reasons, one to familiarize the customers with that smell which leads to regular sales, the second reason being, most people associate strong sweet smells with good things which again helps the sales. However since CeraVe caters more towards making products for sensitive skin, having a strong smell kind of harms the purpose.
So if you have sensitive skin or are just looking for a non scented moisturizer which does its job well, this lotion is the way to go.
Aveeno Body Lotion in the variant 'oatmeal'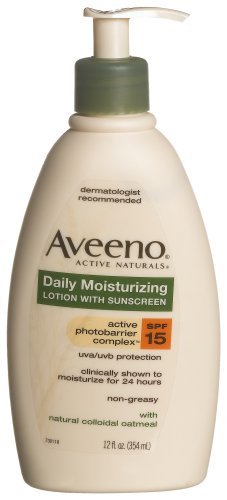 If you are looking for a non greasy and mild lotion, then the Aveeno Body Lotion in Oatmeal is the way to go. This lotion is affordable and gives you moisturized skin for hours.
It does not have a very strong scent as it is an oatmeal based lotion. It does have somewhat of a smell, the kind that lotions usually do but nothing too overpowering. Another feature that stands out about this lotion is the fact that it has a built in spf-15 in it. Though that is not much of an spf, when you just want to be about in town and need an over the body spf, this is perfect. Aveeno is made specifically for sensitive/acne prone skin and hence is recommended by a lot of skin specialists.
This means you don't have to worry about the product resulting in breakouts. You get 12 ounces of product in every bottle which is about the standard amount. Another feature that adds to the convenience of this product is the pump styled bottle it comes in. You do not have to deal with the flimsy capped bottles which can prove to be very messy and can come undone over a period of time.
The Aveeno range of moisturizers come in a ton of variants which include body butter, whipped crémes, etc in a bunch of different fragrances that include lavender, rose etc. You can choose which one you like best depending upon your past preferences.
Overall, there are no flaws to this product and the affordable price that it comes at becomes more of a reason for people with sensitive skin and allergies to pick the Aveeno Body Lotion over any other lotion.
Love Beauty and Planet Luscious Hydrating Body Lotion in the variant: Coconut Water and Mimosa Flower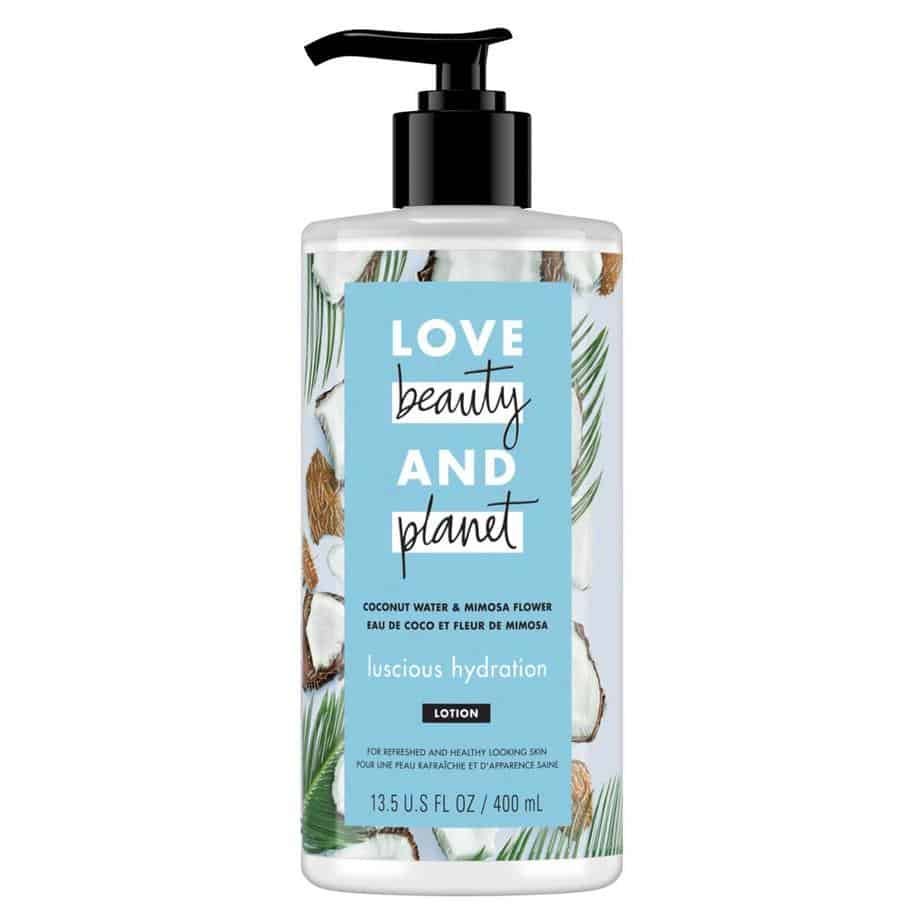 Love Beauty and Planet is a brand that has been vegan since the very beginning. They came out with a promising range of vegan bath and body products that we just cannot keep our hands off of. The body lotions are one of the top tier products from the brands. What makes the lotion so great is that it is made from naturally moisturizing ingredients, like coconut water which has been used for hydration since ages.
People usually go for these lotions because of their lovely fragrances. This lotion smells divine and takes you back to your carribean vacation while you are still at home. The lotion has sort of a water based texture which makes it non greasy and hydrating. There are also three other variants in which this product is available, each having their own scent and benefit. The argan and lavender variant induces sleep and helps soothe and calm your mind. The murumuru butter and rose formula is supposed to give you a pink glow that everyone is going to envy.
Lastly the shea butter and sandalwood variant is made for intense moisturization for all of the dry skin folks. There is a pretty big range to choose from and if you have normal to oily skin you are going to enjoy the coconut water and Mimosa Flower variant. Each bottle contains 13.5 fluid ounces of product which is a steal considering the quality and price of the product.
If you love lotions with strong scents, Love Beauty and Planet has a range that you are going to adore.
Ginger Lily Farms' Botanicals: Fragrance free, soothing butter lotion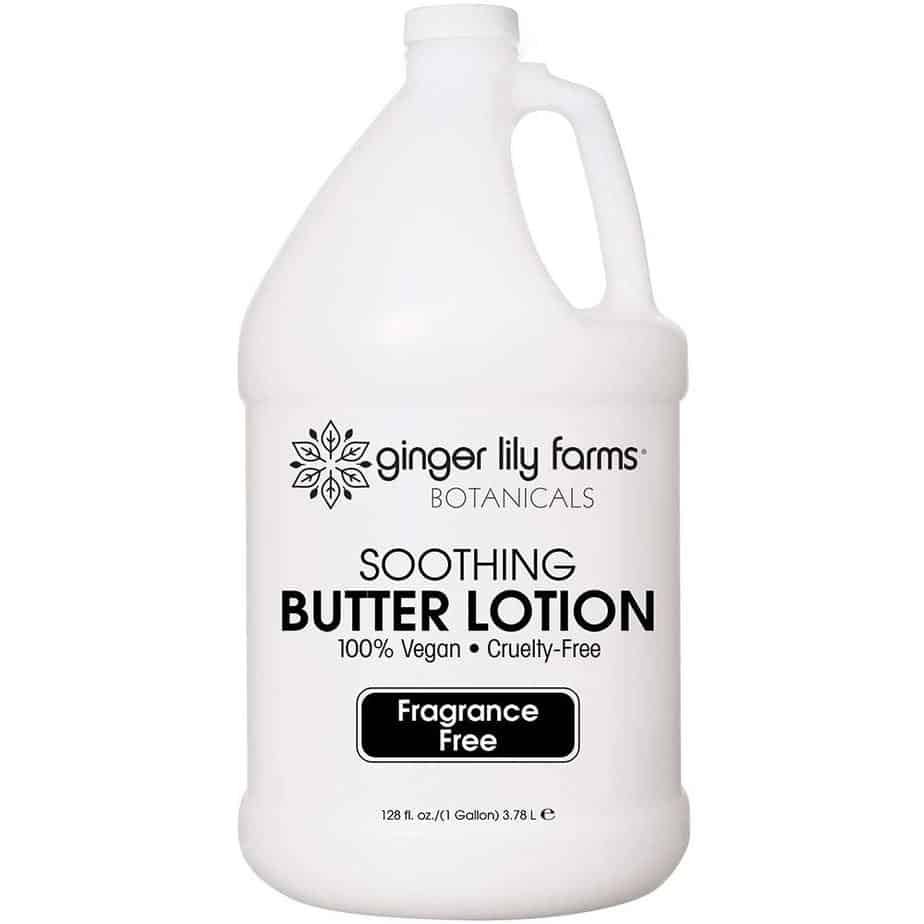 If you have allergies against strong scents and heavily processed skin care products then this body lotion is the only thing you will ever need. Ginger Lily Farms' Botanicals is an all natural, organic vegan brand of body and skin care products, certified by PETA. This soothing body lotion is made of soft and moisturizing ingredients like shea butter, vitamin E and aloe vera. What makes this product so great is that its base is completely natural and the product is cruelty free(not tested on animals).
This product is used by a lot of professionals as it does not set off allergies and has no fragrance. Here comes the best part, you get 128 fluid ounces of product!! This is at the same price you would usually pay for any other body lotion, offering 12 to 18 ounces of product. It is great for people with eczema due to the all natural ingredients and it can also be used for unruly and damaged hair.
The product absorbs pretty quickly which means it will not leave you slipping all over the place for the rest of the day. One disadvantage is that the packaging is not the most suitable. It comes in a gallon with no pump which might make things a little messy if you try and use the product straight from the gallon. But considering the price of the item, a quick fix is just to get an empty bottle with a pump from the dollar store or the drug store and empty the product into the pump bottle as and when required.
This product is amazing and for the price, you really can't go wrong.
Conclusion
There are one too many vegan lotions available online and it can be quite tedious to choose from all of them. Hopefully this helps you in filtering your choices and directs you to amazing products that help you keep your skin baby soft even in those harsh winter months.
All of the above mentioned products are 100% vegan and cruelty free. They will help you contribute your two cents into ending animal cruelty and saving the environment.