Wearing foundation feels great, you feel confident, your face feels even and life is good for once. But only for a little while. Wearing foundation everyday can do more damage that you can imagine. Foundation will clog your pores if you continuously keep applying it without giving your skin a day off. Everyone requires a breather and for your skin, it is a day without foundation and all the heavy stuff that comes with it. But not wearing foundation does not mean you do not get to have an even toned skin tone and beautifully flawless looking face.
That is what BB creams are for. BB creams also known as beauty balms or blemish balms are meant to give you a sheer coverage as opposed to the heavy coverage that foundations or any other base products offer. Best Vegan BB Creams while offering sheer coverage also come with a lot of other added benefits like sun protection, illuminating, moisturizing, etc, depending upon the product you choose. BB creams do not only give you the choice of having an off makeup day without looking like a total drab but they are also great for everyday use for work, school, etc, when you want to look put together but not over the top.
It is always great to go for vegan products whether it be the food or fashion industry. Veganism is here to stay and the reason is the constant and dire need to save the planet and to stop animal abuse. There are a ton of vegan beauty brands and beauty products available almost everywhere and it is barely a challenge these days, to get your hands on high quality vegan products.
Another added advantage is that if the product is vegan, chances are it is also organic and natural since it is catered towards a certain sect of the society that prefers plant based products. Lesser chemicals in your beauty products is always a welcome change and can add so many years to the youth of your skin.
So listed below are some of the best vegan BB creams available in the market to have you looking fresh and put together always.
Top 6 Best Vegan BB Creams
Pacifica: Alight Multi Mineral BB cream
When we talk about vegan products, it is impossible not to mention Pacifica. Pacifica is one of the most widely used vegan beauty and makeup brands. Most vegan beauty enthusiasts tend to reach for Pacifica more often than not and there is a good reason why, Pacifica has been around the vegan beauty industry for the longest time and has also been one of the most affordable organically produced vegan beauty brands. Suffice to say, when dealing with any vegan beauty product, you can trust Pacifica to serve a total banger.
Following those lines, the Alight Multi Mineral BB cream is amazing in what it is supposed to be doing. It does not only do what BB creams do essentially, that is provide you a sheer coverage(sheer enough to not cover anything at all, it basically just evens out your skin tone but that is the maximum of what this product will do) without making a blank canvas out of your face but it also does so much more than that. It has an illuminating and hydrating primer included in its formula which takes it a step ahead of a lot of the normal sheer coverage providing BB creams.
To top that, it has skin benefiting ingredients like pomegranate extract, white tea extract and aloe extract in it. Talk about having multiple good things going for you. This BB cream from Pacifica is able to exceed the norms of BB cream production and give you so much more than just a diluted version of your daily foundation. Not only are you not harming your skin by taking a day off from foundation but you are also providing it with a lot of care by using a product that has skin care benefits too. You also get 1.6 fluid ounces of product which is more than the average BB cream portion.
Overall this product does all that a bb cream should do, exceeds it and presents all of that to you in a price you would get a normal BB cream and sometimes even a bad one for. A downside to this product is that it is available in just one shade which is not as inclusive as we would want beauty brands to be. It however does say that it adapts to your skin tone on application but that can only go so far. For people with either lighter or darker skin tones than the colour that they provide you cannot expect to have the best experience with it if you intend on having a decent amount of coverage.
Other than that, this BB cream does it all and is worth giving a shot since you are on a lookout for one.
Covergirl: CG Smoothers Lightweight BB cream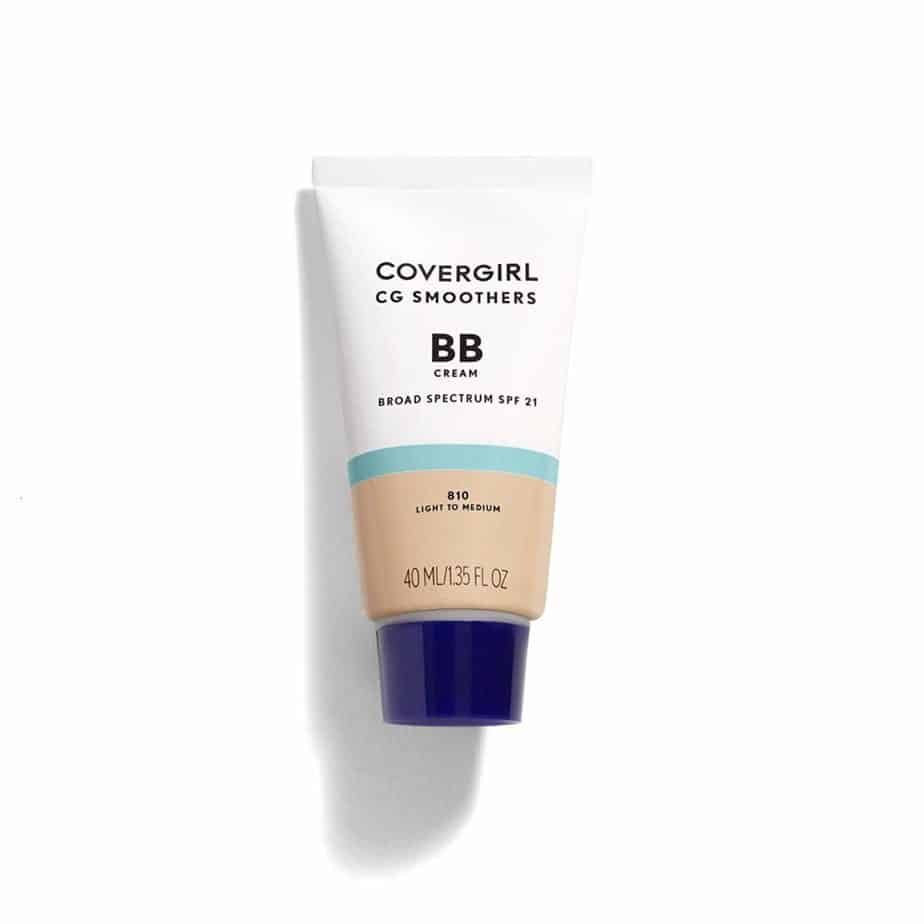 Covergirl is known to have hit or miss products. Some of their products are cult favourites while some just do not do well. Their Lightweight BB cream is among the many good products. Covergirl has been used by many of us during our pre pubescent makeup craze and we all remember some of the horrors and some of the knockouts.
In the past few years, covergirl has come up with a lot of affordable yet high quality products. This is one of them. When this product first came out, it was almost impossible to get your hands on it as it would sell out in the matter of days. There is an explanation to it. It has a shade selection. When it comes to BB creams, a lot of brands do not deem it necessary to have a shade range, the reason is unknown but BB creams are supposedly universal. Covergirl however, thought that it was time to make some changes and while their leap was not as big as we would expect, it was big enough for it to be appreciated.
Covergirl launched their BB cream in 3 different shades so that their line could be more inclusive than the rest and this seemed to work for them. The product in itself was also pretty good considering the coverage and consistency. You get 3.5 fluid ounces of product per tube which is not bad at all. The formula was not too heavy or greasy but still managed to provide a decent amount of coverage. It also had an SPF 21 inculcated in it which is always an added bonus. Sun protection is one of the most sought for features in all beauty products. Sun damage accelerates aging and nobody wants that.
This product is catered more towards people with normal to dry skin as it is quite moisturising and can be a little too heavy for people with oily skin tones, so if you are one of them, you might want to skip this one.
This BB cream from covergirl does it all, so why not give it a whirl?
Bare Minerals: Complexion Rescue Tinted Hydrating Gel Cream
If you have been around the internet based beauty industry(this includes youtube, makeup blogs and the works) at all, you have heard about this product and that might as well be an understatement. The minute this product came out every beauty guru, every makeup enthusiast, was raving about this. And this really does deserve all of the recognition it can get.
Bare Minerals is somewhere between a high end and a drugstore makeup brand. You will not have to drain an entire day's worth of salary into their products but they are an investment. Bare Minerals provides one of the most luxurious feeling beauty and skin care products, I personally have ever used. Formula might sometimes be an issue with their products but quality most definitely is not. Which brings me to this tinted moisturizer by the brand.
It might not fit the bill for a typical BB cream but it does all the same work. It is a beautiful tinted moisturizer with SPF 30 so when you have this on, you do not have to worry about sun damage. The formula is to die for, it is the perfect amount of moisturising, not too overbearing but does not disappear the minute it touches your skin, it gives you the most perfect dewy glow. You get 35 ml of product per tube which is pretty standard.
Another great thing about this product is its shade range, it is obviously not as wide as foundation shade ranges are but then again, it is not a foundation and just a tinted moisturizer. It comes in 10 different shades making it one of the most inclusive BB creams to ever have hit the market. The wide shade range makes it accessible to people with all kinds of skin tone and this particular feature makes it better than a lot of other BB creams.
You can also build up the coverage on this product depending upon what you are going for on that day which is just an added benefit in case you do not want to invest in both a foundation and a tinted moisturizer.
Overall this product is definitely one of the best bb creams/ tinted moisturizers and is worth investing into if skin care is a priority for you.
Covergirl: Clean Matte BB cream for oily skin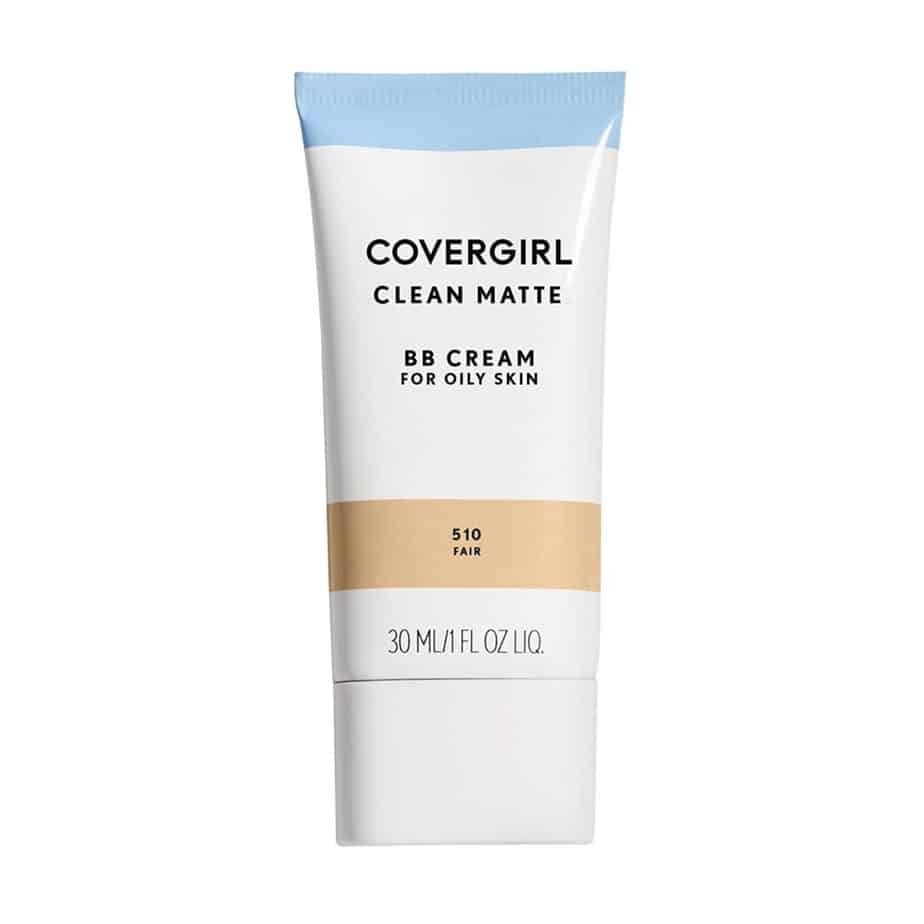 As I mentioned earlier, the covergirl CG Smoothers can be a little overbearing for people with oily skin. This is because the formula is curated to provide a lot of moisture to go well with people with dry skin who want a dewy look. This BB cream has essentially all of the same skin care benefits as the CG Smoothers, the only difference is the tweak in the formula for catering to oily skin types.
This provides more of a matte coverage as opposed to dewy one which is perfect for people who have the skin type that makes wearing any base product, living hell. With oily skin, products designed for normal skin types tend to wear off, bleed and separate over the course of the day and when you wear BB creams, it becomes quite evident because that is the only product you are wearing. To solve that, covergirl came out with this BB cream which has a water base instead of an oil one.
It is available in 6 different shades and each bottle contains 30 ml of product. A downside to this product is that almost all of the available shades have a heavy yellow undertone, while this might not be a problem for people with the corresponding undertone, people with pink undertones just do not find this product sitting well on their skin. If you have a pink undertone, this product might make you look pale and honestly, a little dead. It will cancel out the natural flush of your skin and the product would look rather artificial on you. So if you do have a pink undertone, this product is probably not for you.
All in all, this is a pretty great BB cream if you have oily skin and have been looking for one that will not disappear on you. Both affordable and good quality and a genuinely noteworthy product.
Physician's Formula: Super BB All in One Beauty Cream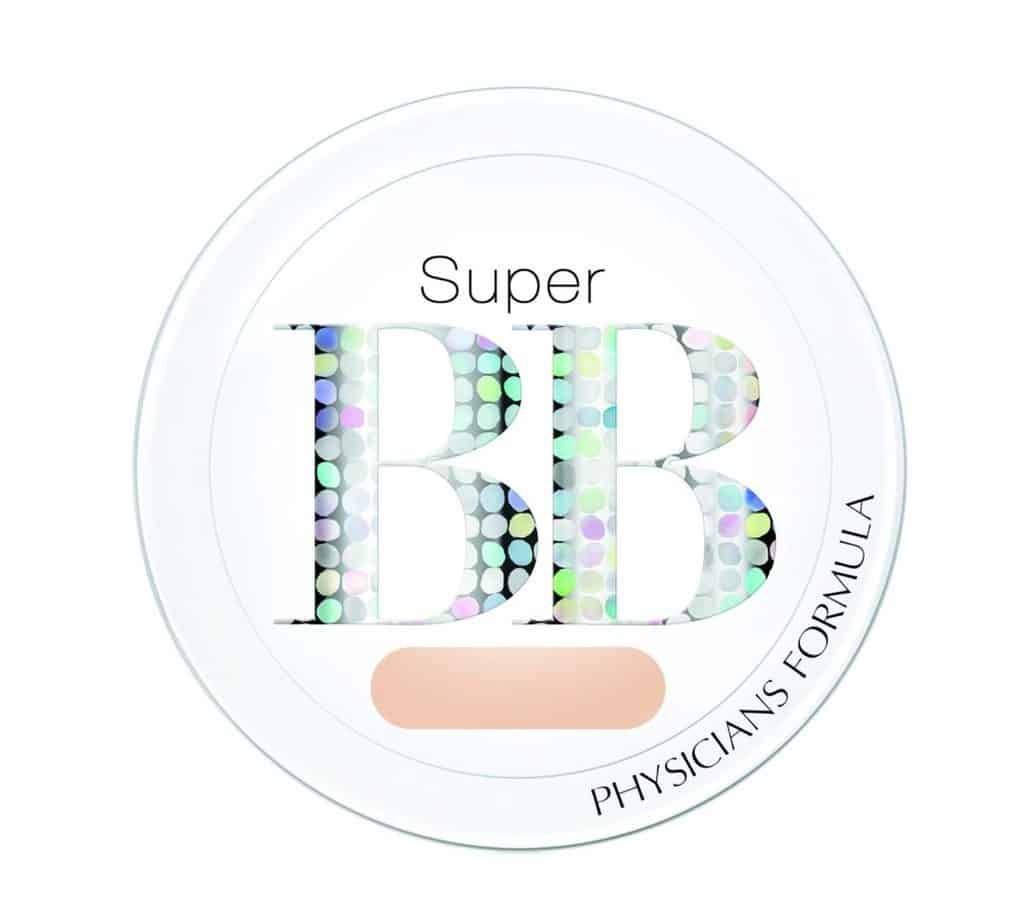 We have all heard about and possibly loved the Physician's Formula Butter Bronzer(Which smelled like actual heaven). Another equally amazing product from the brand is the Super BB, BB cream. It is not essentially ground breaking or massively successful but as far as drugstore BB creams go, this is one of the best.
Physician's Formula is a drugstore brand and provides great beauty products at affordable prices. This product is no different. It is like any other BB cream and provides just enough coverage to get you through the day without having to wear a full face of makeup. It is also really moisturising and hydrating so if you have dry skin, this product is going to be your best buddy. It does not feel too heavy on the skin which is good as it only points in the direction of no clogged pores. You get 1.2 fluid ounces of product for a very low price which makes this product all the more appealing.
The shade range is a little disheartening considering that it is available only in 2 shades which is just not enough to get by. But if you find that the shade fits your skin, it is not a bad purchase at all. It has SPF 30 which is a good amount if you are going to be out and about on a sunny day and do not want to wear those heavy feeling sunscreens.
Another supporting feature is that this BB cream has a higher coverage than most BB creams out there so if that is the kind of thing you like, this might be perfect for you.
All things considered, this product is pretty decent and you cannot go wrong with it except getting the wrong shade.
L.A. Girl: Pro BB cream
As far as drugstore brands go, L.A. Girl is certainly one of the more recognised brands. It has delivered a lot of great products with great credibility at dirt cheap rates. This BB cream is also one of those products with prices that are too low for the quality of the product.
This BB cream, again is part of the group of BB creams that do not do a lot but fulfill their purpose without burning a hole through your pocket. It gives you light to medium coverage and is available in 8 different shades. The shade range is wider than most brands and that is what gives this product an upper hand. It is definitely easier to find your shade and the formula makes the product more susceptible to blending into your skin tone.
It does not completely mask your face with its pigment but it is pigmented enough to cover all the blemishes and give you that even skin tone that everybody craves. You get 1 fluid ounce of product per tube which is incredible for the price this product goes for. It is not greasy which is great for oily skin types, it will not feel heavy or cakey throughout the day and you will barely feel like you have got anything on your face at all.
Considering the price and the quality of the product, you must consider this while buying a BB cream for yourself and it will not disappoint you.
Conclusion
BB creams are great for your skin and so are vegan beauty products. All of the above mentioned products are easily available both online and offline and are some of the best products available in the market. If you were to follow all the information while buying any of them, you can be assured that you would not be disappointed.